Everything Tastes Better Dipped in Chocolate
Oodles of Chocolates: A Unique, Irresistible Treat Awaits
Perhaps the oldest and most craved treat in the world happens to be chocolate, and at Oodles of Chocolates in Lacombe, Alberta, we take our treat-making to a new level of amazing!
We have over 20 years of experience working with chocolate, so we know what it takes to create a wonderful melt-in-your-mouth taste of heaven that any chocolate enthusiast can dream about. And because we're family-owned and locally operated, you can always expect the greatest care to be put into every detail as we create the prettiest and unique tasty treats that make everyone happy. We also offer wholesale orders.
There is no end to the imagination, so making the finest chocolate confections, perfectly proportioned, and expertly decorated, has no limit. We never know what we'll come up with next! But what we do know for certain is that our fantastic chocolate-making team will have you yearning for another taste.
There's nothing quite like chocolate and there's no better way to enjoy it than by finding that perfectly crafted piece that you can enjoy yourself or share with the ones you love. Come see us for just a little nibble or for Oodles of Chocolates.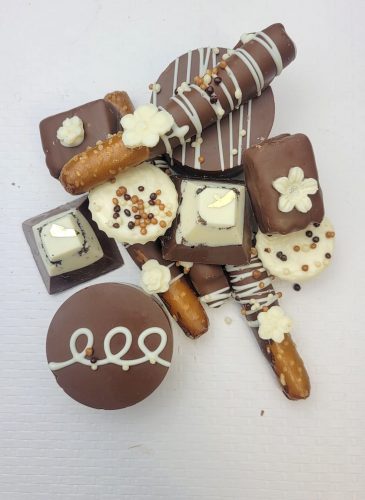 Wonderful shop! Enrolled my grandsons in the chocolate making class and they had a BLAST! Great people - great chocolate!
I've loved Ednas treats from the very beginning and now that we've moved away visiting her shop is a must when we visit. Everything is delicious and made with amazing attention to detail. I can't wait to stop in on my next road trip!!
Edna and her team is so wonderful. I will never buy chocolate from anywhere else again. thank you for being so kind and such an incredible destination in our community!
So many amazing chocolate creations here! Staff was super friendly and I can't stop eating all the goodies I bought!! Will be back soon for sure.
I received the Oreo chocolates as a gift and had to restrain myself from eating the whole box! They are DELICIOUS. Absolutely the best chocolates. Incredibly pretty too!
Delicious chocolates, personal and friendly service. Skip the big brands with the big brand prices and shop local. You won't be disappointed
Delicious bark and hot chocolate sticks! And more! Made by the sweetest people. At one of the most difficult times in my life, I received a special surprise, carefully thought out and packaged. Thank you!
Just the tastiest little morsels! I haven't tried anything there that I don't like! Soooo delicious.
I was the lucky recipient of the HotChocStics and I have to rave about how incredibly delicious they are! If you are ever looking for a gift for yourself or someone else please check out the goodies at Oodles of Chocolates!
Ordered 39 hot chocolate bombs and another box of goodies. So excited and such beautiful creations.